NOTE: This looks and sounds wonderful to me so I'm going to try it out * minus the curry leaves because I don't have any. I did discover an Indian grocery store close to my house and bought some prepared (pre-mixed) spices (priced dirt cheap in comparison to the big grocery stores). I love Indian curries along with other spicy Indian dishes....Ohhhh, how the flavors of Indian Spices can transform the humble Beans & Rice meal into a feast fit for The Royle Family! Below this recipe is a list of links to other Curry Recipes. With me being a vegetarian I would substituting the meats with homemade veggies burgers -or- BEANS ! Enjoy.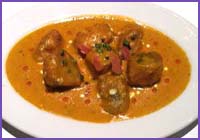 Ingredients :
1½ cups baked pumpkin or winter squash
½ cup red lentils, rinsed
5 to 6 dried curry leaves
1 tbsp curry powder
½ chopped onion
piece of fresh ginger
2 whole dried red chilies
fistful of coconut
½ cup soymilk
sea salt
Method :
Toss all in pot, cook until lentils becomes mushy.
Serve over some cooked grains and some chutney.
Aagai
Avial
Beans and Potato Kootu
Bengal Curry
Bitterfourd Curry
Brinjal Bharth
Brinjal Rasavangi Recipe
Brinjal Upkari Special
Cabbage Curry
Cauliflower Pickle
Cochin Masala Curry
Cumin And Pepper Rasam Method 1
Cumin And Pepper Rasam Method 2
Curried Chick Peas
Drumstick Leaves Curry
Eggplant Gotsu
Eggplant Podi Curry
Eriseri
Gajbaj Ambat
Garlic Rasam
Goddu Kolambu
Kalan
Karuvepalli Or Curry Leaves Kozambhu
Kela Masala
Lemon Rasam
Majjige Huli
Malai Kofta
Masala Butter Milk
Mint Rasam
Moor Buttermilk Rasam Method 1
Moor Buttermilk Rasam Method 2
Moor Keerai
Moor Kozambhu Method 1
Moor Kozambhu Method 2
Moor Kozambhu Method 3
Mulagu Or Pepper Kozambu
Mushroom Ambat
Mysore Rasam Powder
Mysore Rasam
Okra And Eggplant Masial
Okra Curry
Olan
Onion Kolambu
Onion Sambhar
Ordinary Rasam
Parupu Orundai Kozambhu
Parupu Rasam
Parupu Usili
Pepper Rasam
Pitla
Plaintain Curry
Plaintain Podimas
Plantain Puli Curry
Podalangai Snakegaurd Paal Kootu
Poritha Rasam
Potato Curry
Potato Fried Upkari
Potato Masiyal
Potato Podimas
Potato Roast
Potato and Brocolli Curry
Puli Keerai
Pulipu Kootu
Radish Thalasan
Saar Cum Upkari
Sambhar
South Indian Potato Curry
Spinach Bendi
Spinach Cum Papaya Ambat
Spinach Kootu
Tender Cucumber Saasam
Tender Shoots Thambli
Thambude
Vaag
Vazai Thandu Curry
Vegan Pumpkin Curry
Vegetable Kootu
Vegetable Upkari
Vendhya Or Methi Kozambhu
Vepam Poo Rasam
Yogirathna
Zucchini Capsicum Vegetable Curry